Prom Flowers
Please note that we are no longer accepting Grad orders for June 6th and 7th 2019. We are at full capacity. Apologies for the inconvenience.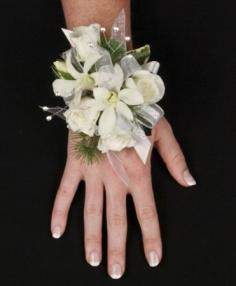 Prom is a big deal to any teenage girl. Perfect makeup, dress, shoes --- but what about flowers? Prom corsages must be perfect as well! Stop by FLOWERS BEAUTIFUL and let us help you create something special. With a picture or description of the dress, we can create something that not only matches, it enhances the dress' beauty.
You can also order online from our beautiful selection of colours and styles.
Option 1: wrist corsage without any 'bling'
Option 2: as is
Option 3: we will upgrade the standard elastic wrist band to a beautiful rhinestone/pearl bracelet
Please note that you may request to substitute a colour flower or ribbon under SPECIAL INSTRUCTIONS. We will always try to make your corsage as close to your specifications as possible!
Corsages are priced at
$24.95 for a basic corsage with no extra bling added on a standard silver elastic wrist band
$29.95 for the basic corsage PLUS added bling
$34.95 for the basic corsage PLUS added bling PLUS fancy wrist band
$45.00 for EXTRAVAGANT designs
All corsages come with ribbon and flower of your choice. These pictures are just an indication of what can be made to your specifications. Please note that some flowers last better than others i.e. dendrobium orchids, spray mums, mini cymbidium orchids and mini carnations.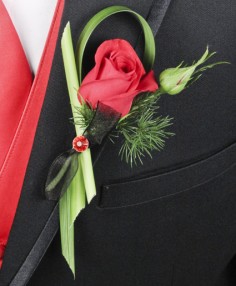 When it comes to prom, a guy can't go without a boutonniere to match his girl's corsage. The flower-on-the-coat-pocket is a tradition for classy men that stems back generations. Just because it's a tradition, doesn't mean your boutonniere doesn't have to be stylish. Choose from a wide range of styles, colors and flowers when choosing a boutonniere from FLOWERS BEAUTIFUL.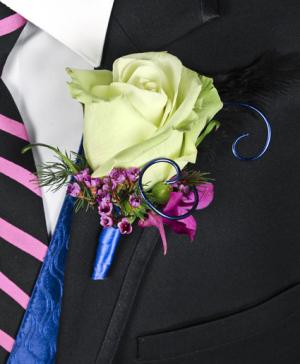 A Night to Remember
Prom Boutonniere
Boutonnieres are priced for the amount of work that goes into them, not the flowers. Good flowers for boutonnieres are spray mums, dendrobium orchids, mini or regular cymbidium orchids, mini spray roses, mini carnations, regular carnations, regular roses. Boutonnieres can be finished off with the standard green floral tape or mounted onto a magnetic holder. Often the added greenery is what will make the boutonniere different from the rest.